---
PCB Assembly
---
Our surface mount lines are powered by Universal Fuzion Platform and MyDATA Automation. They are capable of production throughput from prototype and low NPI well into medium volumes. We can perform single and double sided component placements on rigid, flex or rigid flex boards and support a mixture of SMT and manual component assemblies.
Our SMT lines are tuned for flexibility and backed by a large cartridge inventory with the capability to place small parts (down to 01005) and larger packages (3" x 3") with extreme accuracy.
0201 / 01005 part placements with extreme accuracy
In-line component recognition
Solder paste inspection
BGA / Micro BGA / QFP / QFN placement
Package on package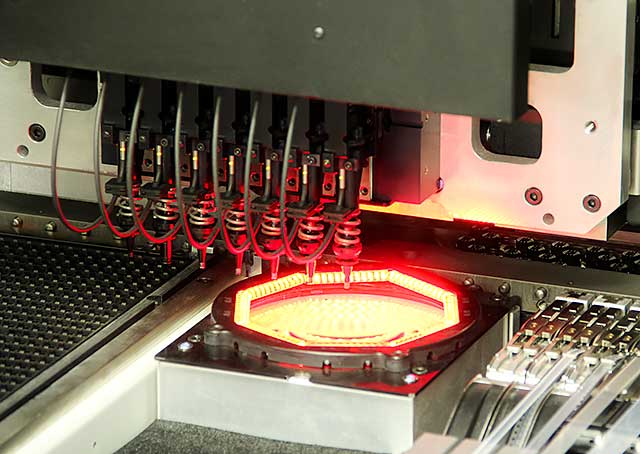 ---
Through Hole and Mixed Technology
---
AMTI Advanced Manufacturing capabilities include solutions for products that exclusively use through-hole components, as well as assemblies that utilize both surface mount and through-hole components.
For surface mount assemblies also utilizing through-hole components, AMTI has both the experience and proven processes to ensure astounding quality with the through-put necessary to get your product delivered on time and on budget.
Through hole assembly inspection and rework
IPC-A-610 hand solder with class 3 options available
Glue dot for mixed and double sided assemblies
Wave solder
RoHS Compliant with dedicated Pb-Free factory area
Cable and wire harness assembly
Aqueous board cleaning
---
Rapid Prototyping
---
Today's electronics prototyping now involves smaller components, more placements and a higher degree of precision that cannot be accomplished by hand. Where hand placement is possible, the opportunity for design enhancements that improve manufacturing could be missed.
Our rapid prototyping services provide our clients with a vehicle for a quick, low quantity production that requires sophisticated manufacturing and inspection using Automated Optical Inspection (AOI) and X-Ray equipment.
Full production and supply chain review
Report on design considerations to reduce production costs
Assistance in development of work instructions
Rapid 24-hour prototyping and turnaround
In-house design engineering team for consultation and industrialization
Small quantity production available
---
Micro Components / Micro BGA
---
AMTI has extensive experience with Ball Grid Arrays (BGAs), micro BGAs, QFNs, QFPs, Micro Leadframe packages (MLP), LGAs, Flip Chips, and bottom terminating SMT components. Our Surface Mount capabilities include placements as small as 0201 components and packages as large as 3"x3".
Our SMA process engineers have direct experience supporting and producing package on package assemblies, and support Rigid, Flex, and Rigid Flex circuit board substrates.
BGA (up to 2577 balls) and Micro BGA placement
Quad flat packs (QFP and QFN) and Micro Leadframe Packages (MLP)
Land Grid Array (LGA) and Flip Chip placement
Bottom terminating SMT component placement
Micro component placement (0201)
Fine pitch placement (12 mil) with .4mm pitch micro BGA placement
Rigid, Flex and Rigid Flex assembly expertise
Single and double sided reflow, conductive adhesives and intrusive soldering (pin in paste)
---
Test Development
---
We have the capability to provide customized automated and manual functional test service solutions powered by AMTI technicians trained in an array of testing methods and procedures based on your specific product and need. In addition to functional test options AMTI also utilizes optical and x-ray inspection equipment to ensure peak performance and durability.
Optical inspection equipment
X-ray inspection capability
Near infinite functional test options
Board and panel level testing options
Component shock and vibration test
Thermal and environment testing options
Test process documentation and enhancement
In-house design engineering assets and services
---
Inspection Technology
---
AMTI uses various inspection technologies driven by a strong quality and inspection tracking system that ensures (live and real-time) that PCB assemblies meet and exceed customer's defined quality standards.
We bookend our inspection process by using: Solder Paste Inspection (SPI) for mitigation of solder paste deposit issues, Automated Optical Inspection (AOI) of PCB assemblies to inspect placement accuracy, and X-ray technology to inspect solder quality - catching voids and bridges. Computer controlled repair stations enable us to repair, remove and replace BGAs or QFPs should they not meet quality standards.
Algorithm based inspection of solder paste to 2µm for increased first pass yield.
X-ray inspection backed by broad experience
Proven success inspecting complex components
Automated Optical Inspection (AOI)
Quality data recording system with live, real-time analysis
Computer controlled repair station for complex BGA and bottom terminating component repair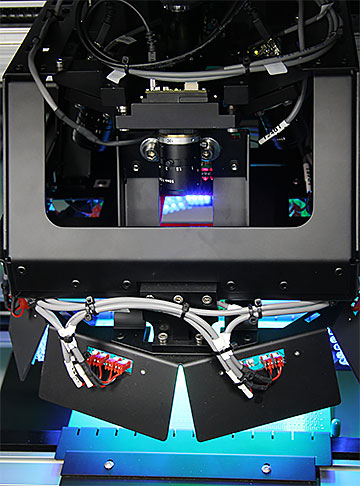 ---
Conformal Coating and Potting
---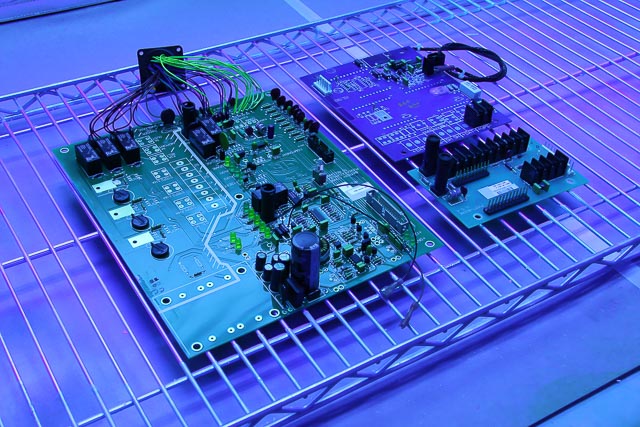 Conformal coating or potting can be essential for enhancing the reliability and long-term performance of your mission critical electronic assemblies. It can provide protection against fungus, moisture, corrosion, thermal and mechanical shock.
For your ruggedized product manufacturing needs, AMTI provides dedicated factory space with conformal coating and potting options that allow you to extend your product into a broader range of application environments:
---
Serialization and Lot Coding
---
We have the ability to provide serialized product tracking, test tracking by serial number, and lot code tracking. We also have the direct experience, proven documented processes, and the software routing systems needed to be effective.
Custom solutions for product serialization and lot coding
Sub-component tracking
Quality data track options available
Routing and quality tracking systems
Packaging options with serial number integration
---